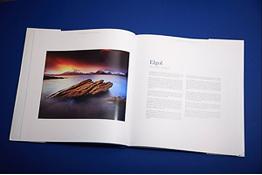 Published by Half Light Press, Edinburgh. November, 2011.
The lure of endless possibilities
No, a photograph is not a simple visual report of "what was there". In Bruce Percy's words, photography is "an emotional response to what we see and feel". His first book, The Art of Adventure - 40 Photographic Examples, its format and title paying homage to Ansel Adam and Galen Rowell,lends substance to this view.
The book's 40 images are each accompanied by a one-page commentary providing insights into the image-making process. While the locations vary from the photographer's Scottish homeland to further afield - Argentina, Bolivia, Cambodia, Chile, Ethiopia, Iceland, India and Nepal - before long, the book's underlying question becomes clear: Why this photograph?
The backstage insights shared with readers include descriptions of the setting in which each photograph was created. Percy talks about his fears and worries, mishaps and coincidences, makes technical and compositional observations, and interprets the sense of his work while reflecting upon the role of emotions and the unconscious in image-making. Above all, he tries to convey to readers what drew him into an image, why that particular image was made, how he feels when he has made a good image.
Percy loves the fact that photography in general "gives us a reason to get out there and experience new locations and new people". The "endless possibilities" offered by photography are themselves a source of inspiration, he feels. At the same time, he knows that "one of the biggest mistakes a new photographer can make is to keep moving and not spend enough time in one location". Slow down, he seems to be saying, and think about what you are doing, why you are doing this. Or at least, this is what he seems to have said to himself at some point along his own photographic journey.
Percy knows the joys of making landscape images "at an unearthly hour, in the silence, just you and your camera." Perhaps this is one reason why his photography often has a mystical, meditative quality about it. These days, he tells us, he is striving for an "otherwordly" mood in his photography, along with simple shapes and tones.
One unexpected component of the book is the portraiture. Until now, I had associated Bruce Percy exclusively with evocative landscapes, but now am intrigued by his assertion that "portraits should be landscapes in their own right". He sees portraiture as "very similar" to landscape photography. As he puts it: "I'm looking for an aesthetic that is pleasing in terms of composition, light and tonal balance. But I'm also looking for a spirit, and that is not too different from landscape photography after all".
Knowing what you're looking for may well be half the battle or more, but photographers keen to make the most of photography's "endless possibilities", should perhaps take their cue from Percy's account of finally succeeding, on his 4th attempt, in making the sunrise image he wanted at the Laguna Torre in Argentina's Los Glaciares National Park. As in the legend involving his namesake Robert the Bruce and a spider, Bruce Percy simply tried and tried again.
But perhaps some of the book's assertions shouldn't be taken too literally, such as "there appears to be no such thing as bad weather". Try telling that to a sodden, bedraggled group of photographers from Italy, on a week-long trip to the Highlands, while they are sheltering from the Scottish wind and rain under a low stone wall near Rua Reidh lighthouse;-)
The Art of Adventure - 40 Photographic Examples is an absorbing read for anyone interested in photography, and a compilation of beautifully-reproduced photographs that you will want to look at over and over again.
Review By Noeleen Hargan